This is the time of year when people start going out more, especially if they live in areas that receive snow during the winter. At least this used to be the time when people started going out more. Even if you are self-isolating, you can still go outside in your yard to get some natural vitamin D.
The Importance of Curb Appeal
Generally, people think of curb appeal when buying, or selling, a house. However, curb appeal is important even if you don't plan on moving. Not only do some homeowners belong to an HOA, or perhaps live in an area that is strict on by-laws, but the curb appeal of our homes shows off a bit about us. Having a nice yard, and well-maintained exterior of your house, shows the outside world that you have pride in the things you own, and are willing to make an effort at making things look nice.
Now I'm not talking about spending thousands of dollars on a gardener or having a marble fountain in your front yard. I'm merely talking about mowing your lawn, getting rid of overgrown weeds, trimming back your trees, etc.
More Than Just Looking Pretty
In fact, trimming trees and bushes can be an important task, that many don't think about. Especially if you have large trees and bushes too close to your house. The exact distance depends on the species and size of what you are planting.
There are two main reasons that homeowners should be aware or when it comes to planting too close to their house. Insurance could deny claims if you have damage caused by roots to the foundation of your house. This is a big cost to you if you need to repair your foundation and uproot the tree that cause the damage. And yes, trees are absolutely capable of breaking through the concrete of your foundation.
Another area of concern is if the trees and bushes are too close, and too tall, that they cover windows. This could lead to problems if there is a fire, or other emergency, that would require someone to exit via the window. Blocking egress points can be a big issue, depending on where you live.
Rejuvenation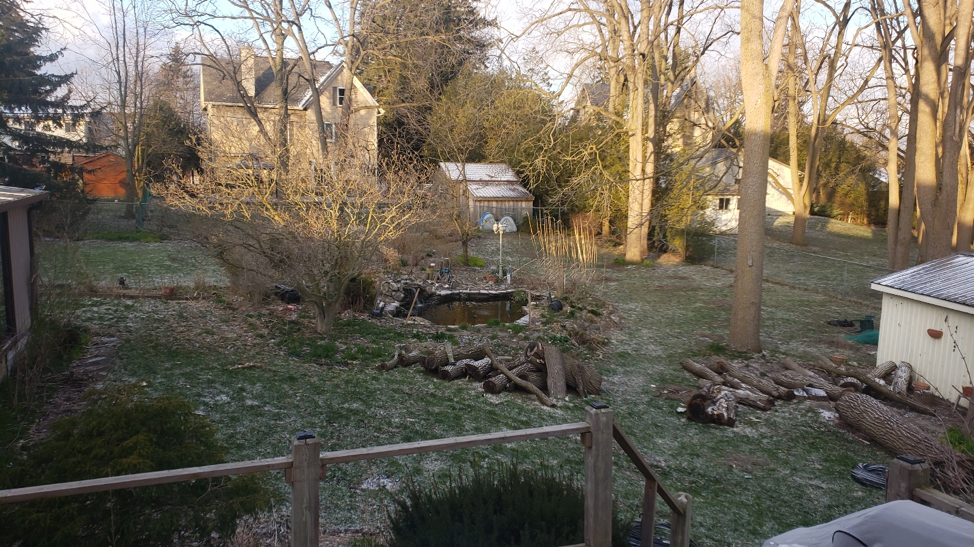 Ok, enough talk about the serious stuff, let's get back to the pretty stuff. Though I'm sure if many of you look out at your backyard right now it might not be so pretty. This time of year the trees are still bare, maybe you have some flowers starting to peek through the ground, but mostly things look dank and some shade of brown.
This is a photo of one section of my backyard. It's looking pretty gloomy. The other parts of the yard, as well as the front, look much the same. The person who owned the house before I did, lived here for over 40 years and loved gardening. She admittedly would just throw seeds wherever to see what would grown and what wouldn't. The last few years she and her husband lived here they were unable to keep up with the maintenance as they started to travel more and didn't have the energy for it. So, I have a lot of work ahead of me and I can't wait to get started.
Timing is Everything
After a winter of hibernating the first thing we want to do when the weather starts to warm up is to get out there. The past couple of days have been colder here, with some frost, but we've had really nice days as well, and Spring is going to finally show up within the week.
As much as I want to get out there and start tackling the yard and garden, I need to stop and think. The ground might not be solid enough, there tends to be a lot of rain this time of year. I also have to take something else into consideration: the insects. Not many people like insects and might not necessarily care. But the thing is, in some of those piles of weeds are different insects, or eggs, or pupae, that are just waiting to emerge after a winter hibernation. Many of these insects are great pollinators or have other benefits to the ecosystem.
So, when should we get out and start raking, pulling leaves, and cutting the lawn? For best all around results, wait until the temperatures are consistently about 50°. This will ensure that the insect species have cleared out of their hiding spaces, the eggs and larvae have had time to open, and it's also best when planning on using something like grass seed, where it won't activate properly if it's too cold or too hot.
Some Yard Inspiration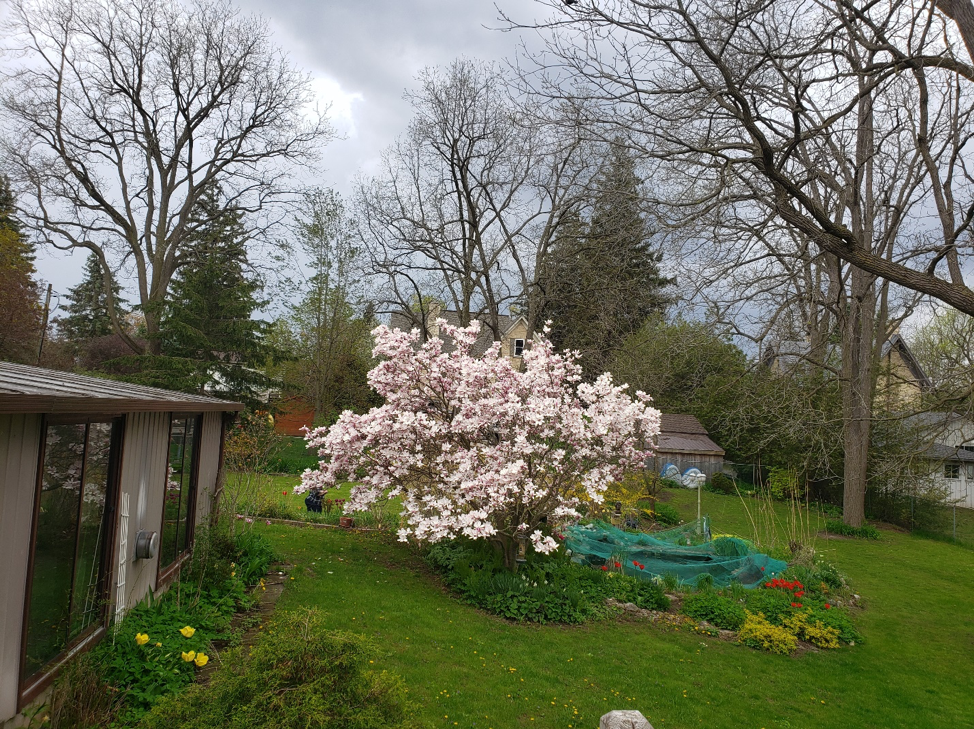 In addition to mowing your lawn, and plucking weeds, you may want to spruce up your yard a bit. With many places that are non-essential still closed, you can still produce some great results. Use what you have on-hand, try something different, move plants around.
Edge around your driveway, walkway, and sidewalks to get a nice crisp look. If you don't have a proper edger, you can use a spade, shovel, or hoe. Most households have at least one of these, and you can just go around and make a divider between the grass and concrete, cement, or asphalt.
Here is the same shot from earlier, but in May of last year. Color is starting to come back, and this is a great time to start with the upkeep. I'm always good with cutting the grass, but this year the weeds will get pulled, and actually all of the flower beds are going to be redone. I'm starting from scratch. I now have a dog, so I need to be careful with what I plant. Those daffodils for example, have to go.
If you realize that you have a tree or bush that is too close to your house, or is obstructing an egress window, but you really like it, perhaps there is another spot in your yard that would suit it better. Not all vegetation does good with replanting, but many do, so just do your research. My daffodils for example are not good in the fenced-in back yard where my dog can run loose, but they would look great in the front yard, where he's always being watched.
Get creative with things you have around the house that could be used outside. One of my friends was renovating her bathroom and used her old toilet as a flower planter outside. It is tastefully done with flowers inside the bowl, and all around the edge of the bottom. If the thought of using a toilet doesn't sit well with you, there are plenty of other things that you can use to liven up a flower bed.
More Inspiration and Help
I only mentioned a couple of things above. There are so many resources out there to give you lots of different inspirations, such as blogs, Pinterest, and just taking a drive around your neighborhood. Or someone else's.
Feel free to leave a comment below if you have an idea that you've tried, or seen, that you think would help others.
If you would like more information on curb appeal, and more specifically what will help when you want to sell your house contact us and we'd love to help out.