Right now, many of us are spending a lot of time inside our homes. And, if you're anything like me, you've reached the point where you've noticed things about your home that you might not have before, and it's starting to get to you.
While I do have some larger projects that I want to accomplish around house, those are going to have to wait until stores are open regularly, and contractors are working again. But there are things around the house that I want to take care of now, and they're smaller so I can absolutely do them while stuck inside. One reason is that it gives me something to do, and another is that I can finally move that baker's rack downstairs to my office.
Thinking, Planning, and Rooting
I've known for a while that the baker's rack doesn't really fit in where it is now in the dining room. But I love it, and I definitely don't want to get rid of it, so I decided a while ago to put it in my office, where I could enjoy it and it would be functional for me. Then, I could move things around in the dining room to get it looking just-so.
So, I started thinking about other rooms in my house, and other items I have.
Do you have a wall that's bare, and could use some life? I'm sure you have some pictures and frames around the house. Or perhaps, you've already got some pictures hanging up. Why not switch the pictures out to create a new look for the room. Hanging up photos of nature, or an outdoor adventure you took, can help make a room feel open and airy, something that is good in a time where we're not seeing much of the outside.
Look in your basement, or garage, for things that you already own, that might just be off to the side. A lot of times when you buy something new, you don't necessarily get rid of the old. You probably have an end table, or rug, or artwork just hanging around, that you can bring back to life.
Little Things that Make a Big Change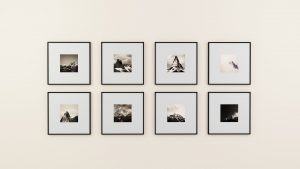 There are so many things that you can do to make different spaces feel new, and alive again, with things you already own. With the family spending so much time inside, I'm willing to bet more of the house is now being used. Do you really need a formal living room for guests right now? Why not turn that into a family games room. Or a home office if you're now working from home, without a proper setup.
Why not add a little rug, a side table, and a seat in your bedroom to give yourself a little reading nook? You can create a quiet little oasis for yourself, away from the kids, computers, and television, and it didn't cost you a thing!
Get the kids in on the action as well. Maybe they're at that age when you can start transitioning their rooms into the next phase of their lives. Get them to pick out some things that they might like to have in their room. Just moving furniture around and adding a couple of new pieces will give it a whole new feeling. Get them involved so they can have some time away from the screens, get rid of some of their boredom, and make them feel that they are partially in charge of what is occurring in their space. Maybe your daughter is outgrowing her Frozen lamp and would like one from the rec room that is collecting dust. Such a small change yet could have a huge, positive, impact.
These are just a few ideas, but really, the possibilities are endless. If you have any suggestions, please comment below to help others out.